Chers Amis,
You know how much I already love them since the recent escape (from retreat) of Bernard Jordan who served in Royal Navy to reach the 70th anniversary of D DAY in Normandy. Now it's Tom Moore to strike it Walking for National Health Service at age 99 (soon 100).
9 millions sterlings for NHS.
A 99-year-old army veteran who has raised more than £9m for the NHS said the fundraising has been "completely out of this world".
Tom Moore aimed to raise £1,000 by completing 100 laps of his Bedfordshire garden by Thursday.
"Every penny that we get, they [the NHS] deserve every one of it," he said, as the total exceeded the £5m mark.
Meanwhile, a school girl has started a campaign for children to make cards for his 100th birthday on 30 April.
Reegan Davies, eight, from Port Talbot, Wales, has set a goal of making 1,500 virtual cards.
"You can post them on any social media with the hashtag #makeacardfortom." she said.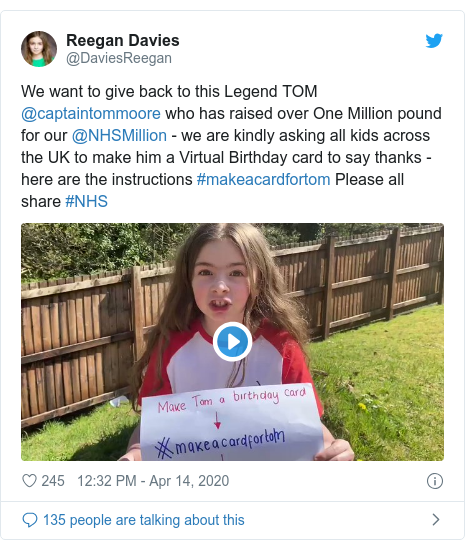 Mr Moore began raising funds to thank the "magnificent" NHS staff who helped him with treatment for cancer and a broken hip.
With the aid of a walking frame, he hoped to walk 100 laps of the 25-metre (82ft) loop in his garden in Marston Moretaine, in 10-lap chunks, before his 100th birthday.
https://www.bbc.com/news/uk-england-beds-bucks-herts-52290976
afghanistan anger anxiety awareness belonging break down burn out combat stress coping with ptsd dark night of the soul depression emotional empath empathy fear highly sensitive person homecoming hsp meditation mental health mental illness mindfulness paris attacks post traumatic stress disorders psychological ptsd PTSD AWARENESS ptsd recovery resilience sebastian junger self care self discovery self love self worth shell shock social anxiety spiritual awakening stress stress disorders trauma tribe veterans vets war vets yoga